For those social media savvy among us, you might be thinking that the days of Facebook are over and it's time to make room for other exciting more visual channels like Instagram. And in the case of your own business, you may not be wrong (not every social media is needed for every business), HOWEVER! If you compare Facebook to every other social platform out there, it's still the largest.
Since 2004, it's consistently grown its active monthly users to 2 billion compared with Instagram which has a mere 700 million in comparison and 328 million for Twitter. 93% of marketers also admit to using Facebook advertising on a regular basis despite criticism over changes to their algorithm. So, the opportunity is still huge for this channel, which is why we've identified some top tips to getting your Facebook business page setup in the best way possible…
1. It's a business page, not a personal profile!
Try to remember that this is an extension of your physical shop or office window, as much as you might enjoy posting a selfie in a faraway sunny destination, your audience probably won't if they're expecting you to share information about your services. So be sure to create a Facebook business page when you're setting up. You should also consider setting your page up in the correct category: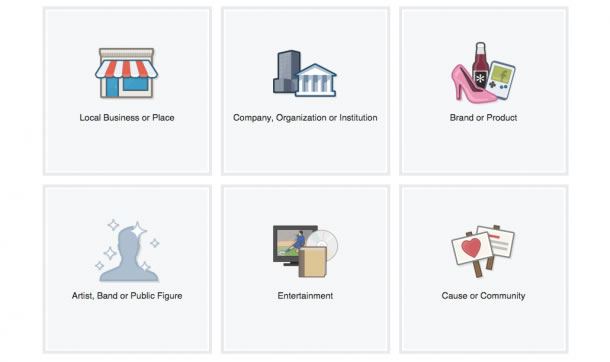 For most users reading this, you'll likely go for 'local business or place' which has some key features you can take advantage of later on down the line. One of them being a map of your location so users can easily find you on the high street among your competitors.
2. Get your logos just right
Facebook has a guide to loading brand photos and logos for use on your business page in the correct sizes so be sure to make them look neat and tidy – no cut off edges that don't fit properly. Your cover photo can also be quite creative or change regularly to highlight a new product or service you want to offer. So have fun with it!
3. Press the right buttons
You may have noticed these on other Facebook business pages or even those of your competitors. You can set your own buttons based on how you want users or 'fans' to interact with your page. In this example you have 'sign up' but there are others to choose from like 'book now', 'contact us', or 'shop now'. And you can link these to just about anywhere to drive your potential customers to the right place.

4. Mix up your content
Ah, yes, one of the biggest challenges – what to post!? The beauty of social media is that you have time to trial and test the content that works best for your business. Original content is usually best, but not always about what you're selling, it might be loosely related to your product or service. You may also find that content relevant to your followers gets high engagement. For example, if you're a legal firm who specialises in property support, sharing information about the latest property boom might spark some interest from your Facebook fans as well as make you look like a professional fount of all knowledge!
Remember that including photos or video content usually gets a higher engagement than just plain text. Something to catch the eye!
5. Share that user generated content
Remember we talked about how user generated content was so important in our first blog? (link to blog post) Well it's high time you made it more visible! It will not only save you time with thinking of what to post, but it promotes brand loyalty and makes your customers feel really special. Whether you directly ask customers to share content with you or you reshare from a tagged post, they are both great ways to improve engagement.
6. Use your insights
One of Facebook's inbuilt tools is that of Insights. It will provide you with a snapshot or a detailed outlook of your page's activity depending on how much you want to delve into the detail. You can measure things like:
Page likes – new like or unlikes
Post reach – how many unique views on your page and posts
Engagement – total number of unique people who engaged with your page and posts
Optimal times to post – monitoring when your fans are online so the best time to post content
Demographics – who your audience are from their age to their hobbies
The list of Facebook tips is really and truly endless. You could tinker around with it all day, every day. We hope you find the basic tips in this blog useful. As ever, if you need some extra support with your social media management or you want to explore the opportunity of paid Facebook advertising, you can contact us today for more information. We'd be really happy to put you in touch with your local consultant.