Like any other social media channel, Instagram is competitive, but not impossible! We're going to help you sift out the priorities with these top tips in our latest Social Media blog.
90% of Instagram users follow at least one business or brand and it's about time you were one of them!
1. Switch to a business account
If you're brand new to Instagram or have been using it already to market your business, make sure you switch it or set it up as a business account. Having a business account gives you access to features you don't get on a personal Instagram account including insights, adverts, organised messaging and contact information.
2. Getting your profile just right
You have precisely 150 characters to make a short but sweet 'bio' which is designed to highlight who you are and why someone should follow you. Have a really good think about how you want your brand personality to shine through here. You do have some other tools with a business account where you can cut a few corners when it comes to your bio such as:
Your name – 30 characters
Your username – choose it wisely!
Your website
Business category, e.g. café
Contact information – they give you handy buttons for these
And just like we mentioned in our article about Facebook, don't forget to resize your images to be used in the right format, you don't want it to look messy!
3. Don't forget the visuals!
Whilst all social media is very visual, there are none more so than Instagram which is literally of grid of images that makes up your business page! Don't let that scare you off though, you don't need to be a professional photographer or even hire one. Basic tips include making sure your photos or videos look sharp, well-lit, in focus and well-composed at a minimum. And with the latest smart phone technology, it's easy to tart up an otherwise dull image.
4. #
Ooooh those pesky little hashtags! Remember what life used to be like before them? You can use up to 30 hashtags per post, but sometimes that's a little overkill if you don't want your post to look spammy. Be sure to choose hashtags that are relevant, specific to your audience and make total sense. There are some websites out there that can help you determine the best hashtags for your audience, but be selective!
5. Be responsive
You've got your first comment on a photo – now what? Well reply of course! If you want to get good Instagram engagement then you must engage with people who are interacting with you. And this is just as a minimum. You should spend some time looking for popular accounts that are in your network, follow them, like their posts and make yourself visible indirectly.
6. Tell a story
Over half of businesses are using Stories on Instagram – a third of the most viewed Stories are posted by businesses. They also disappear within 24 hours so an opportunity to connect with your followers 'in the moment.' One of the best features of Instagram Stories is that is a user tags you in their story, you can reshare it, really harnessing that user generated content. You can also keep your Stories for longer by turning them into highlights on your profile, particularly if they are a great collection to highlight one of your services or products. The example highlights below from Sephora are fantastic!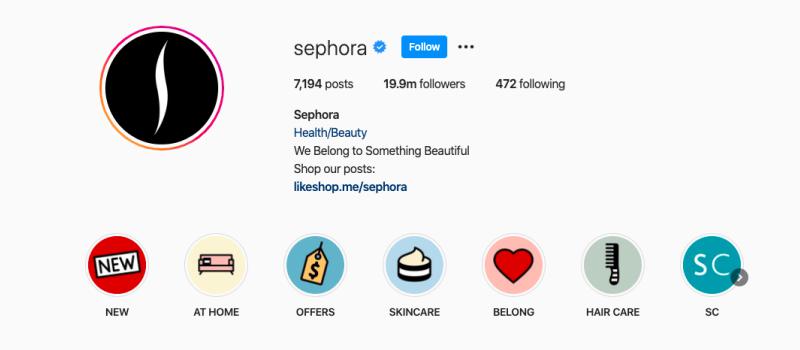 We could spend all day curating the perfect Instagram account for you and your business and if that's something you need more support with, then please do get in touch. In the meantime, have fun exploring this channel!