Last week Tom, our technical project manager, embarked on a trip to London to attend the Amazon Web Services (AWS) Summit.
This event was a chance for people in the tech industry to get together to collaborate and learn about Amazon's new web services, whilst connecting with networks of likeminded people.
For those who attend the summit it's a fantastic opportunity to listen to industry expert keynote speakers, attend workshops and learn where web services will be heading.

At activ we endeavour to keep on top on industry advancements, and this is another example of how we look to stay ahead of the game.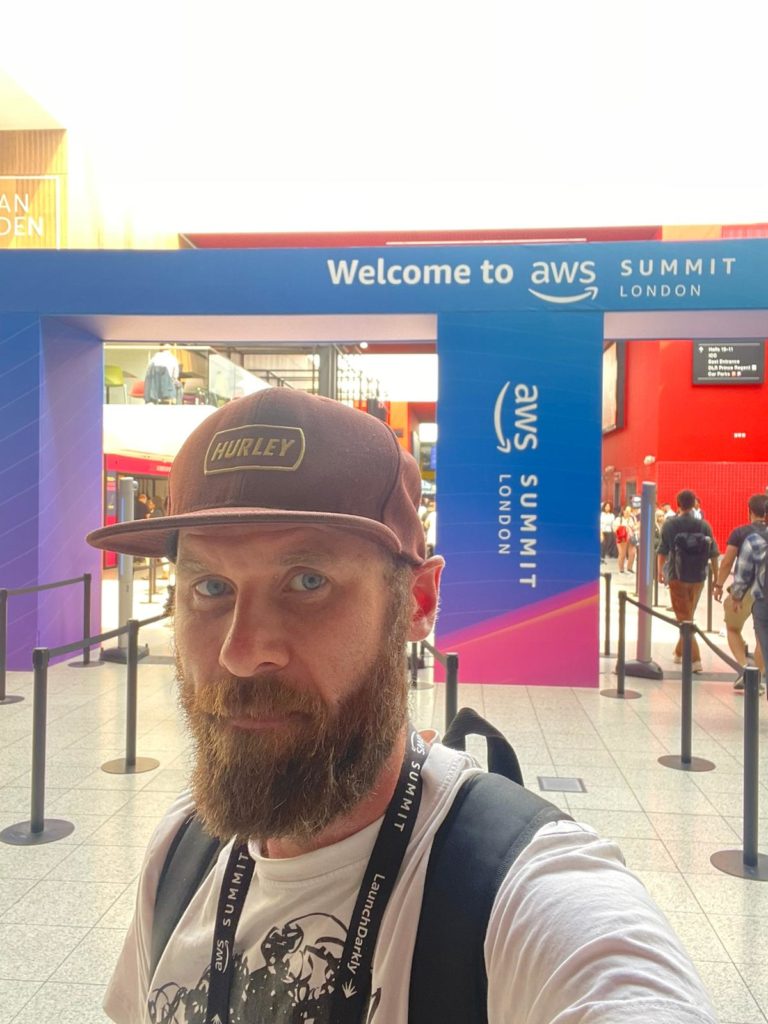 Read on for Tom's blog on his day at the AWS Summit.
Setting off to the train station, it was a beautiful morning with a crispness to the air, and everything was going well… until I reached London.
A number of train related issues ensued, at this point I was grateful for ChatGPT generating a route excluding troublesome lines.
Eventually I reached the ExCel centre and the scope of the AWS (Amazon Web Services) summit was awe inspiring. The amount of people constantly entering and registering, the amount of stalls, giant theatres with global companies sharing their experiences and best practices was a sight to behold. After signing in and receiving my pass, I walked around to see what was on offer and who I could speak to throughout the day.
Thanks to the handy app supplied by AWS with the full itinerary of talks I had already planned in a lot of the sessions that I wanted to attend. The amount on offer, and the variety was almost overwhelming. Fortunately, I was able to filter the talks by the various AWS services that I was interested in and focus my efforts.
I was particularly interested in learning more about their EC2 and S3 solutions among others alongside the marketplace and the vast offerings available. The wide array of use cases was fascinating to see and how completely different industries were using the same solutions for very different results. There were a number of talks taking place in the theatres and suites but what I found particularly interesting was the smaller, sharp 15 minute sessions taking place among the various stands. All talks were provided with headphones meaning that no noise overpowered the other activities surrounding, but it did mean you had to attend the talk before to ensure you had some headphones for the following workshop.
Each session spoke about how they had used the bare tools provided by AWS to sculpt their own solutions, and also how their solutions could integrate with your own AWS applications to enhance them. Each workshop that I had attended made me consider the security, the optimisation, and the power of our own offerings.
Where I really found the most benefit was walking around the stands, speaking to each organisation about how they integrate with AWS, and providing that flexibility to discuss how they could enhance our services to our clients; providing a use case and a customised solution..
Though we are not currently using AWS for our services, I have always been interested in their services and the way that they provide additional power, scalability, scope, and power in their cloud solutions along with their reasonable costs that they have become known for.
I like to always keep my eye on the vast range of offerings- somewhat overwhelming to those new to the industry- in the digital marketing market and enjoy looking for what the next big thing will be. It also allowed me to see however that our current offering is truly fantastic and the value for money is exceptional which is what we always strive for to help organisations get the most impact out of their budget.
The train ride home really allowed me to stand back, absorb the information that I had received over the day and piece it all together looking where we could tinker to push the boundaries even further on the digital marketing landscape. Plenty of research was continued wherever I could get signal on a train, and the research continues indefinitely to adjust to a fast paced and ever changing industry."