Love it or hate it, the government demands to work from home in early 2020 pandemic UK have had an effect on us all. Some of them good, introducing a wonderful work-life balance, but some of them making workers feel more isolated. Whatever your preference, whether you're a home body, addicted to the daily commute or prefer a mixture of the two, for the team here at activ, working from home is most welcome and we like to make the most of it with some comfortable additions to our attire!
Don't worry, we're not about to start sharing inappropriate images of our team working from home in their pyjamas, but we are planning to divulge some of their secret home working comforts that they might be wearing under the desk whilst on zoom calls.
Of course, a level of professionalism is maintained at all times. Client call? No problem, we'll be dressed for the part in no time and be sure to brush our hair! These are some of the things our team can't live without whilst working from home.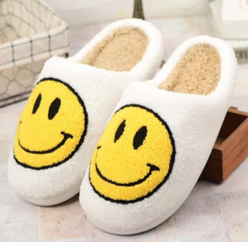 Megan – Marketing Assistant
"I am always in my smiley slippers which are sooo comfortable and keep me feeling toasty during these colder days.  Depending whether I have meetings, my outfit is often finished off with my dressing gown over the top – if I have meetings it is close by ready to throw on as soon as the zoom call is ended!"
Glenda – Head of Marketing
"Today, I am wearing the chunkiest, fluffiest socks because it's so cold, finished off with a pair of reliable Adidas sliders. The best part is that nobody just saw them on my zoom training session earlier today! I'm not sure I'd get away with them in the office or picking my son up from nursery!"
Tom – Technical Projects Manager
"I always have one of my many hats, though tend to have 2-3 in rotation. With this weather I have been tempted to move over to my beanie instead. The rest of me is pretty boring unfortunately. Maybe I should invest in a foot spa for meetings." 
Katie – Managing Director
"I try and wear my gym leggings to encourage me to go for a brisk walk at lunch time to get my steps in. If I don't and wear a dress or something more formal I generally don't bother having a walk. Sweaty Betty are my favourite brand!"
We are aware this article isn't offering advice of what to wear when you're working from home, so we did some research to find out what those in the fashion industry would suggest when you don't necessarily need to 'get dressed.'
This article from Vogue selects some easy pieces that transition nicely from home to outdoors, casual yet smart including an easy button-up shirt and the one-size-up jeans. Glenda particularly liked the reference to the sliders, making her feel better about her choice of shoe today: "It's hard to feel "dressed" with no shoes on, but with nowhere to go, I'm not about to zip myself into a pair of heeled boots for a day spent almost entirely in my apartment. These slides are the perfect indoor shoe."
Meanwhile, retail giant, John Lewis is vowing to stop wearing joggers and pyjamas… "Think loose-fit trousers, an overshirt worn with a T-shirt, and an actual pair of shoes instead of your socks. Although definitely comfortable, these pieces will help you gently transition out of the non-clothes you've likely been wearing for the last year and get you in gear for the return to the home office. Or at least the pub."
USA based Today show goes all out in their analysis of what to wear while working from home. Analysing everything down to what colours to wear to boost your mood. "When you need to get up and moving (physically or mentally), Eiseman suggests rocking warm tones like orange, red, yellow or reddish-purples. When it's time to slow things down for the day, cooler tones can be super relaxing."
So you see, it takes all sorts of outfit edits and alterations to work from home, whether you're self-motivated or use your outfits to boost your motivation. What do you wear whilst working from home? Keep it clean!