Out of all the channels we've featured in our series of social media articles, LinkedIn is probably the most niche of them all. It won't be every small business at all and in particular works for business-to-business marketing. Having said that, there's nothing stopping you creating a business page on LinkedIn as an additional tool, particularly if you plan to recruit on a regular basis or you have a strong people development-based culture.
As of January 2021, LinkedIn had 722 million members, it's not the largest of them all but has a specific business focus in mind. Content creation also increased on the channel in 2020 by 60% so there's really never been a better time to become part of the conversation.
Besides the obvious tips of creating a professional looking business page, we've focussed this article on how to get the most out of the channel.
1. Viral, high-quality content
You really need to consider the content you're posting on this channel. It should be insightful within your industry subject matter, spark conversation and perhaps even offer to help solve a problem within your network. It's less about product and service sales and more about your professional opinion as a business. The best part is that if you post directly to LinkedIn pages and it begins to get momentum, LinkedIn will put a spotlight it and it can potentially become much more visible. Articles are a great way to create high-quality content.
2. Engage with your employees
Whether your business has just 2 employees or more like 50, engaging with your employees on this channel will give them a face and make your business look like a great place to work. It also becomes more visible to your employees' connections and you can start to build your very own network of followers.
3. Keep a beady eye on competitors
One of the unique features for LinkedIn is called 'Companies to Track' which highlights a list of companies similar to yours with some key metrics such as follower growth, social engagement and total followers. Taking a look at these regularly can make sure you stay ahead of the game or at least see how you fair in comparison.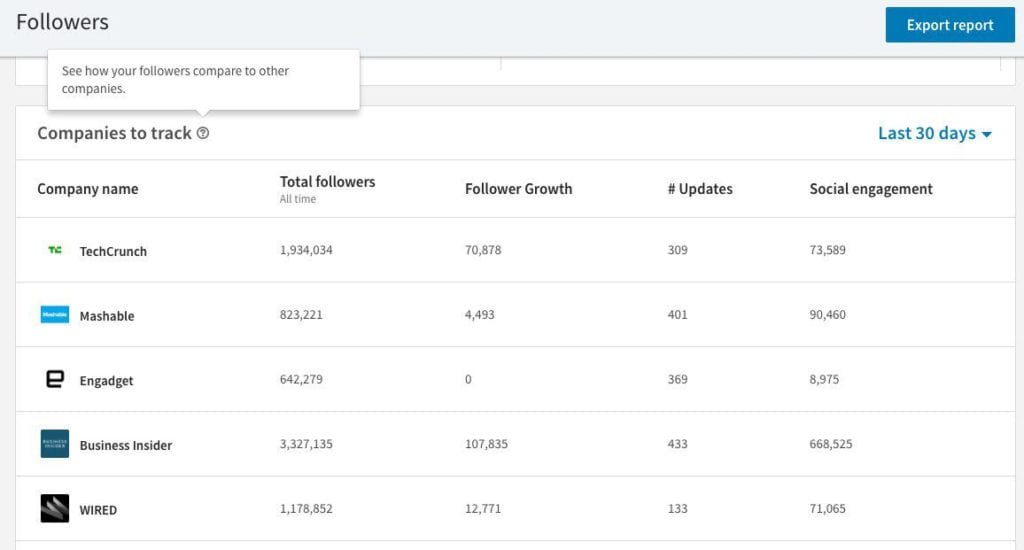 4. Have a plan before you begin
You might not be aware, but LinkedIn recommends that you post daily to keep your audience engaged. That's a hell of a lot of content to come up with and in some cases unrealistic, especially for a small business who might be a one-man band. The advice here is to think clearly about your approach if you want to use LinkedIn. Plan a month's worth of content in advance so you're not sat trying to think of something to say on a regular basis. It doesn't have to be every day, but it needs to be regular enough that you look professional and active.
5. Use your profile
In contrast to many other social platforms, LinkedIn is one where it's highly encouraged for you to use your personal (or in this case professional) profile to target potential connections and clients. LinkedIn is primarily a network for business professionals to connect with each other, therefore business owners should connect with prospects, strategic partners, referral partners and other business owners. It's only then that real engagement and conversations can begin on how you might work together. With this in mind, keep your profile up to date with your business information, experience and make sure your profile picture is professional 😊
There's a lot to do here and our Activ consultants are ready and waiting to help produce a plan of action when it comes to LinkedIn or any of the other social media channels out there.