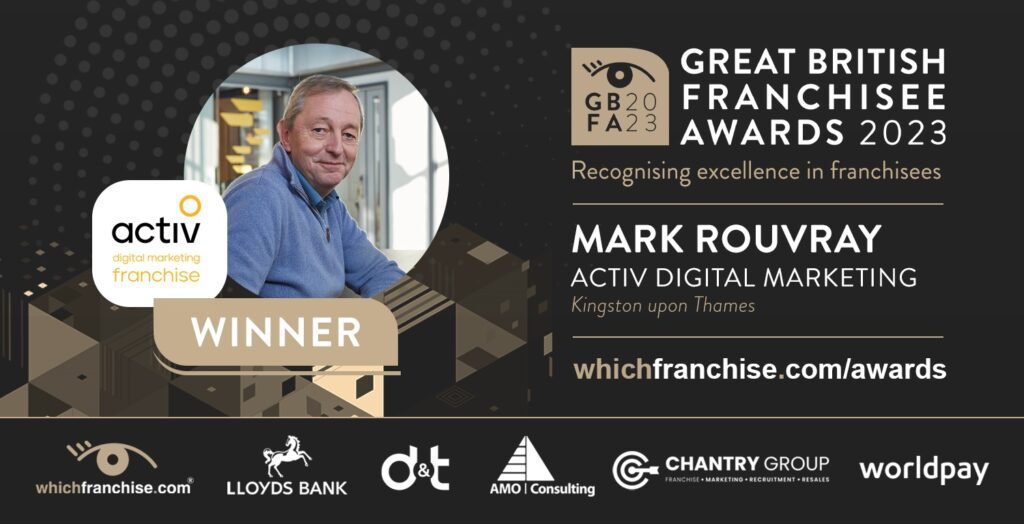 activ Digital Marketing Franchisee Mark Rouvray of activ Kingston has been honoured in one of the industry's most prestigious awards- The Great British Franchisee awards.
Mark was bestowed the coveted award for his exceptional digital marketing business in the Kingston area. Rouvray bought the Kingston franchise in 2008 and has run a successful business ever since. This award recognises Mark's excellence in customer satisfaction and growth in the past 15 years.
"I bought into the activ franchise, which was originally focused on web design, back in 2008 but has since developed into a full digital marketing agency business offering SEO, Social Media Management, Pay per Click and traditional marketing such as planning and branding", said Rouvray.
'It is great to be recognised for all the effort and achievement over nearly 15 years of running the franchise', he added.
The award winning activ Digital Marketing Franchise is the longest running digital marketing franchise in the UK. Managing Director Katie Bullon is delighted with Mark's award recognition,
"We are very proud of our Kingston area Franchisee Mark Rouvray,
"He has an amazing business in activ Digital Marketing Kingston, which is testament to his hard work and dedication to his clients since 2008".
The Great British Franchisee Awards have been held annually for the past three years and recognise excellence in the Franchise industry. Founder of award organiser which franchise.com Johnny Selly said, "These are the only awards dedicated entirely to franchisees, and those business owners are, of course, the lifeblood of the industry".
Head of Marketing Suzanne Melville added, "There are thousands of great franchisees in the UK, but our group of winners stand out for the passion, commitment and hard work they put into running their franchise business."
"The calibre of candidates this year was outstanding. It is exciting to be able to recognise and award the hard work and passion of each franchisee, who are all shining examples of franchising at its best! Each was a worthy winner of a Great British Franchisee Award".